As creatives, educators, and technologists,, we are living in exciting times as technology creates ever increasing opportunities for us to build and share without the barriers of gatekeepers, utilising different mediums from VR / AR / MR to digital video to transmedia to podcasting to games to mobile and e-learning … and the list goes on. Creating these resources though, costs time and money.
In order to better understand both established and emerging funding / business models around the production and distribution of creative endeavours and educational resources​, our team has been researching various funding models including grants / awards, foundation funding, crowdfunding, sponsorship / brand partners, traditional broadcast solutions, advertising, affiliate marketing, freemium models, Web Monetization, and more to learn what makes projects successful in each of these streams of funding. From this research, we've been building the Sustainable Funding Case Study Series and this open access course.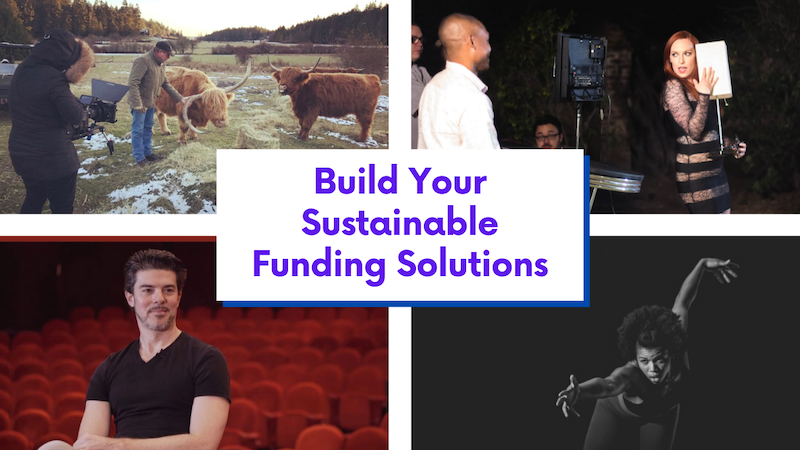 Join us in this Sustainable Funding Course as we share our findings from our interviews on the established and emerging funding / business models of different creatives. Explore what strategies different creatives were successful with and those that were not, and ultimately what they learned from those successes and failures. Our hope in the end is to help you to find ways of turning "nos" and "maybes" for funding on various projects into "yeses", and to build and create with sustainable funding models in mind.
Who This Course is For:
Writers
Digital Magazines
Bloggers
Flimmakers
Podcasters
Journalists
Course Creators
Entrepreneurs
Technology Start-Ups
Artists
Dancers
Musicians
Vloggers
Educators
Online Course Creators
Open Education Enthusiasts
Skills Instructors
… and more
---
*Please Note* This course is a dynamic work in progress that we will be adding to and growing over time, as our research illuminates new pathways forward and we have the time to develop additional Units on different funding solutions.
---
An enormous thank you to Grant for the Web and BCIT for funding this open educational course and the broader Sustainable Funding Series, to the AMTEC Trust Award and CNIE for funding my professional development work around this work, and to David Porter for acting as an advisor to me in this work.
---