Before we get started on this lesson, please read the following three articles:
It use to be that recognized reliable sources of information were available in hardcopy (printed form). To produce and distribute a professional looking magazine, newspaper, journal or book would take a significant investment of time and resources. With electronic information replacing print as the standard, it is now much easier to create a professional looking website and/or articles and posts. This is making it difficult to distinguish misinformation from a credible, trustworthy information. Electronic misinformation and information is far easier to distribute.
As illustrated in the New York Times article, false information isn't necessarily created intentionally, but if it's appealing, or suits someone's purpose, it can go viral.
Sharing on social media is as easy a clicking a button – it takes seconds, and minimal effort. The rewards for sharing include immediate feedback in the forms of likes, reshares and comments which are equally easy to do. Misinformation has been around for a long time in the form of gossip, tabloid journalism and hoaxes, but social media has allowed it to spread at hyperspeed.
Prior to social media a common way for an individual to spread information was word of mouth – as illustrated here:
But now, with the tap of a button, a user can spread that information to their friends and followers and immediately reach hundreds, if not thousands of people. Using their Truthy tool, Indiana University's Observation on Social Media (OSoMe) project visualizes the spread of trending Tweets.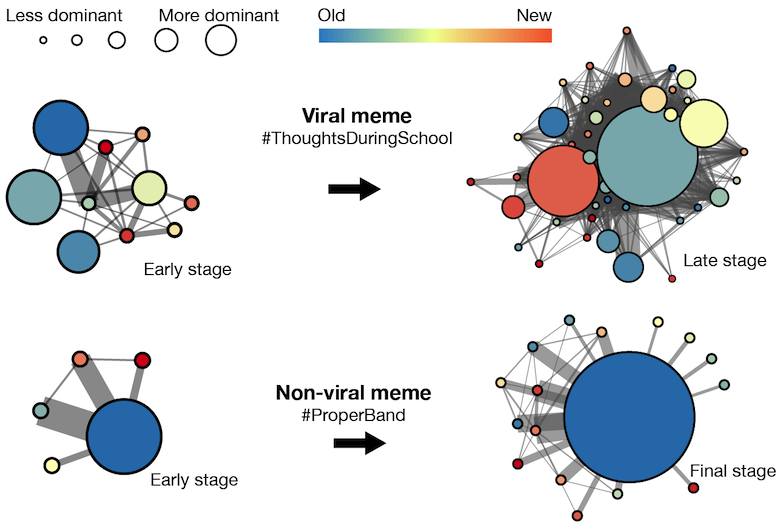 Activity
OSoMe has another tool you can use to visualize the spread of news claims and fact checks through Twitter and Facebook – Hoaxy. Try it out.
In their report, Evaluating Information: The Cornerstone of Civic Online Reasoning [PDF], the Stanford History Education Group states, "we worry that democracy is threatened by the ease at which disinformation about civic issues is allowed to spread and flourish."
What do you think?
There's no doubt that false facts and fake news are spreading faster than ever before. Head over to the discussion forum (by clicking on the green button below) to share your thoughts on the incentives, rewards and consequences of creating and spreading misinformation.
Additional Resources
Curious to learn more? Enjoy the articles below.