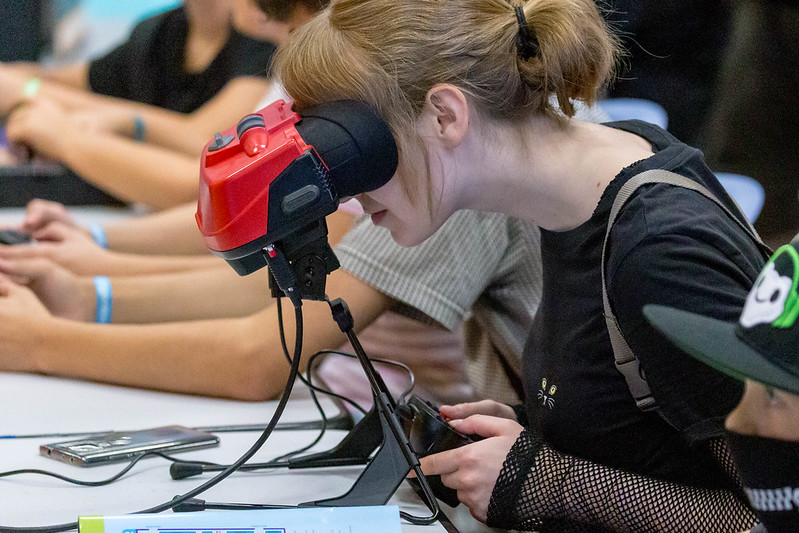 An Introduction to Virtual Reality
Virtual Reality is a simulated environment and experience that could be similar to or completely different from that of the real world in which a user is physically situated.
While the first virtual reality (VR) technology was developed in the 1800s, VR was not readily available to the public through commercial sales until the 1990s. It suffered slow growth due to limitation in technology until this past decade. We have seen a resurgence in the VR market since 2010 with the release of the Oculus Rift and the market is steadily growing as the technology starts to find its footing. As such consumers are buying in, and educators are too.
The purpose of this overview of VR is for you to get an idea of how VR is being utilized in natural and cultural history education, the challenges and opportunities that exist, and the different types of VR hardware available in the marketplace, in order to make informed investment decisions.
---
Learning Applications
When teaching history it's best to have students experience the history instead of just reading/hearing about it. When teaching about the Berlin Wall, Johannes like to pass around a piece of the wall that he has; students think it's cool to say they have touched the wall we are learning about, and it is not hard to obtain a piece either. But most of the history we teach is hard to obtain and as such the advent of mainstream VR offers a very valuable opportunity in the search for meaningful lessons.
Within this section you will see some of the various ways in which VR can be used in the classroom, with a focus on Natural and Cultural History. You will see how VR can be used for tours, immersive historical recreations, do-it-yourself VR tour creation, apps that can supplement creative projects, and even VR apps that you can use without VR headsets!
VR Tours
VR tours allow you to take the class on fieldtrips that simulate a physical place without ever leaving the classroom. There are many varieties, but common tours allow users to navigate freely in a 'museum' type space that allows for interaction, manipulation, and more. VR kits with motion controllers will often allow for much more immersive experience.
The VR Museum of Fine Art
This is a free piece of software that allows the user to walk up to and investigate museum pieces, inside a virtual museum. Students walk from exhibit to exhibit replicating a real museum.
Apollo 11 VR
This VR experience gives students an idea of what the 1970s space flight was like. A good supplementary activity!
Rome Reborn: The Colosseum District
As per the company's elevator pitch: "Go back in time to visit the Colosseum and nearby sites, including the arches of Constantine and Titus, the Meta Sudans, the Temple of Venus & Rome, the Ludus Magnus, and the Colossus of the Sun. Listen to experts and see panoramas of the sites as they appeared in antiquity and as they look today."
1943 Berlin Blitz
This is an excellent immersive experience for high school history students, as it simulates a bombing run in a Lancaster bomber during WW2. It's mostly a "watch and listen" experience, but the audio is authentic and is a fully immersive experience with the crew acting out the events. True history buffs will love this one.
VR Applications
For the adventurous teacher, VR offers much more than tours of museums and historic events. You can create and host learning rooms, students can play games, use creative VR outlets for activities, and more!
Engage VR
You have the ability to craft and carry out meaningful lessons inside a virtual classroom of your own design. This can be an extremely useful tool for teaching powerful lessons, though it's currently underutilized due to a lack of people pushing user created VR forward (but this space is growing!). This may also be an excellent alternative for online learning. Finally, it is also a growing viable tool in the corporate world!
From their words, "ENGAGE is an education and corporate training platform in virtual reality. It empowers educators and companies to host meetings, presentations, classes and events with people across the world. Using the platform, virtual reality training and experiences can be created in minutes. The tools are very easy to use and require no technical expertise. You can choose to host your virtual reality sessions live, or record and save them for others to experience later. A wide variety of effective and immersive virtual experiences can be created with an extensive library of virtual objects, effects and virtual locations available on the platform."1
Titanic VR
This game puts you on board the Titanic on it's fateful night. This program is actually part game (where you uncover artifacts from the Titanic) and part cinematic experience (where you get to experience the sinking without much in the way of actual gameplay).
Tilt Brush
This VR app allows students to use their creative side to complete history projects. If you have an activity asking students to draw/paint/model something, some students will love the option to do this in VR and you will get incredibly original and creative student content. The best way to understand what this app is like is to watch the video below, as this is how it really works and looks!
Google Tour Creator
We have been talking about Google Expeditions a bit so far, but did you know you can actually create VR tours, even outside of VR? You don't even need to know anything about programming, coding, or even VR! This is a great project to give to your students – with Google Tour Creator your students can craft classroom tours, making for a very social, collaborative, and engaging experience. They don't even need VR equipment to make their tours a possibility.
VR without the VR Equipment!
At this point, many teachers may be disillusioned because, while all of this stuff looks great, many schools simply don't spend money on VR equipment. This section aims to show you that you can start to forage into classroom VR without any expense at all, providing your students have access to a computer.
The following VR projects are a bit different than what we have discussed thus far. These ones are Virtual Tours that are developed by stitching many images together and then adding interactive widgets and information within. This is currently a powerful form of VR, where the technology is more accessible, but the experience is immersive. Instead of walking around a computer generated museum as in other apps that we have mentioned, this form of VR allows students to walk around in real world museums and see real world photo-realistic artifacts. It's pretty powerful stuff, especially since this form of VR is much more accessible in our current age.
The Smithsonian National Museum of Natural History
The Smithsonian National Museum of Natural History has 145 million specimens making it the largest natural history collection in the world. It's not feasible to bring your class on a field trip as you would if you lived in Washington D.C., nonchalantly for the day. Well now you can, just give your students ipads or chromebooks and let them tour. Perhaps you will create a guided tour activity for them. Having been to the museum in person, this is in Johannes' view a good representation of it. Check out that obelisk in the museum window. What a unique thing to see from the window of a museum!
*We recommend going through the above slide deck in full screen mode*
Navigating the St. Lawrence
Navigating the St. Lawrence is an older-tech example of virtual tours, but still rife with content and quite engaging, if you are teaching the material. Instead of walking around a photorealistic museum, you click on glorified links to move through the content – again, you can craft activities around this.
The National Museum of Computing
This is a more niche museum experience, so if you have a student who is working on an optional choice directed study, this might be a great resource for them! It's located in England so it's not a place you can easily tour. (Hint* you can view this experience in VR if you have google cardboard or anything more).
A Next-Level Classroom Tour Experience…
I would be remiss to exclude this very interesting looking Smithsonian Virtual Tour. This experience is centered on the magnificent Smithsonian Air and Space Museum, in which there are multiple tours available. In this resource you actually register a class for the tour which comes with games and breakout rooms! This is an interactive and immersive experience for your class without the need for VR equipment.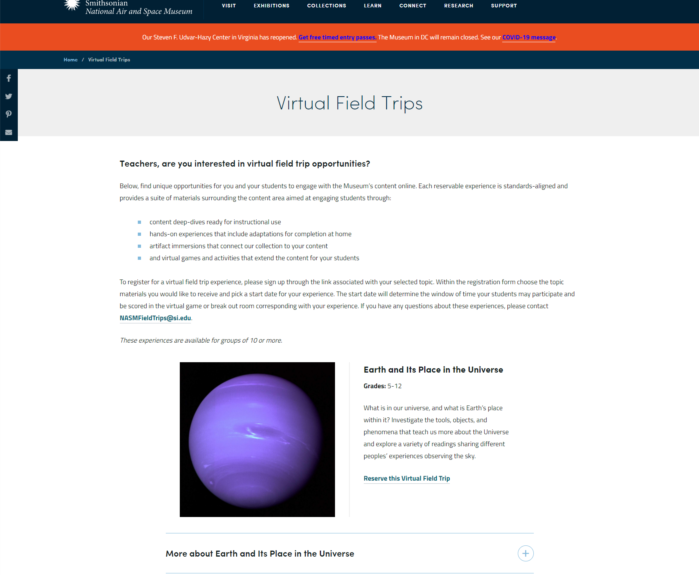 This concludes the Learning Applications content of this page. You have been shown 12 various examples, in this section of VR at use in the history classroom. Use the Padlet below to share which of the 12 applications struck a chord with you, and what you especially like or did not like about it. To get started with your post, click on the + sign, and be sure to sign your name to your post.
---
Solutions Providers (2020)
Over the past decade there have been a variety of companies taking the plunge into VR, though some providers are much more suited to classroom use than others. This section will go over key differences between some of the main VR products available on the market today.
After perusing through the slide deck above, use that information to contribute to the following Padlet discussion by clicking on the + and typing in your thoughts:
Consumers / Purchasing Departments need to decide if they want to use battery powered, cheaper units that offer a more limited experience (especially Google Cardboard) than more costly, but higher powered, devices. For school and cultural sites it would cost no more than $300 for a class set of google cardboard1 but perhaps there is a budget for a cutting edge VR room at the school or cultural site where the space has multiple $1800 PCs and $700 VR kits ($75,000 for the initial equipment purchase of 30).
With that said, let's look at the cost of ownership of these various VR kits so you can have an idea of what kind of money we are dealing with when it comes to VR in schools or cultural sites. Feel free to click on the links to see each unit's information site and shop site.
It is unfortunate that currently the total cost of ownership of most VR kits (with the exception of Google Cardboard) puts it out of the hands of most educators. With the requirement of compatible smartphones, even Google Cardboard can be inaccessible for use in a classroom.
VR Google Expedition Classroom Kits
With all of this said, there is another option out there. An increasing number of education based VR companies popping up are selling classroom kits with access to Google Expedition, often complete with a host of lesson plans. This option can bridge the cost of the low-end and high-end VR kits, as you can get a set of 30 for about $16,000 and you don't need a room full of powerful PCs to run these VR kits. You also don't need to rely on students to supply their own phones. The one issue with these kits is that they usually only do one thing – run Google Expeditions, which is a great IP, but it limits what you can do with VR in the classroom.
This option might be for you if you are mostly wanting to do VR field trips, as Google Expedition has over 500 locations for you to take your class, and the lesson plans certainly help! The following is a smattering of these education based VR solutions providers that you may be interested in:
Now that we have taken a look at some of the major solutions providers and products available today, and also have gauged the cost of ownership when it comes to having classroom sets of VR, let us now focus on why educators are starting to spend money on this high tech educational tool, and why you might want to consider it as well!
---
Possibilities and Limitations of VR in the Classroom
The following is a somewhat recent podcast in which we see real world protagonists share their views of both the limitations and the possibilities of VR in the classroom:
---
VR Culminating Activity
Due to the current financial and technical state of VR, it is out of reach for many. However as mentioned, one does not need to have VR equipment in order to experience some of what VR has to offer. For this culminating activity, you are to choose a virtual tour of your choice that you can access with your browser (no VR needed). I have included a couple of these types of tours in the "VR without VR equipment" section of this page, but I encourage you to go out on the Web and find a virtual tour that you find personally interesting. Once you have gone through the tour, complete the following.
---
Supplemental Information
This section is out of the scope of this OER, but nonetheless contains interesting and informative information on the subject of VR use inside the classroom. If this interests you, these videos have been curated to hopefully be of interest and value to some of you.